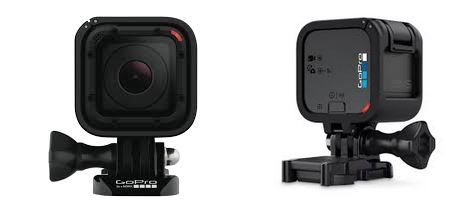 Starting with the GoPro Hero Session 4, I then moved onto the Hero Session 5 a year later.
The main problem with the Session 4 being being poor low light image quality, not great quality stills, and it being mainly designed for 1080p, (though you can increase this with a slower frame rate). This gave no opportunity to crop the image without looking poor quality and restricted any after-camera stabilization or distortion correction. Quite soon I wanted the 4K from the Hero5.
As an introduction to the GoPro line, the Sessions will quickly make you realize if this is a type of camera that you will use. Even if you aren't into action photography, do you have other subjects that you might find it useful for?
The GoPro lens distortion means that you can't really use it for a full video without the viewer getting tired of the format and videos need to include footage from different format lens. Removing the lens distortion with software improves it, but you can still tell the footage was from a GoPro.
For accessories, I haven't used the adhesive mounts, but have bought a flotation stick which the camera is usually on, a clip for attaching to my belt or rucksack strap (still to try), and a gecko mount – which looks cool but haven't used much yet either.
While there was much more I could do with the Session 4, I was always a bit disappointed with the results.
My first big trip with the Session 5 gave a lot better footage than the year before with the 4, so it is a definite improvement.
The size of the 4K video made it very slow to process even on quite a decent computer, so I didn't really get much of a benefit from 4K as I had to downsize it before I could do anything with it. If I'd worked on small clips with the 4K then downsized before trying to put it together I might have got some benefit.
The footage appeared less shaky and the stabilization included in the camera mean't I was able to use much more of the footage than with the Session 4.
The image quality was still much worse than my smartphone, which also produced better quality footage than my Ricoh GR.
The main advantage of the Session is its size, which meant I was much happier using it in crowded situations on the street and got footage than I wouldn't have got with a camera or a phone.
So the question is, will I be happy with it as a longer term solution, or will I be trading it in for the GoPro Hero 7 Black or the DJI Osmo?
The stabilization of the Hero 7 Black should be far better, but if GoPro haven't improved the basic image quality and colour cast problem that I had with both Sessions, then I probably won't get one.