A good way to get an introduction to Turkey is to fly to one of its resort cities. Bodrum is one of these. You could fly to Istanbul but this would be an entirely different experience. If you would prefer to see a more relaxed side of Turkey then Bodrum is good for this.
Bodrum is located on the southern coast of Bodrum Peninsula in Muğla Province in Aegean region of Turkey. The city is about half way along the peninsula about 30 minutes drive from Milas-Bodrum airport. If you book through a tour company or resort it's likely they will provide a shuttle bus into the town or to the nearby resort you are staying at.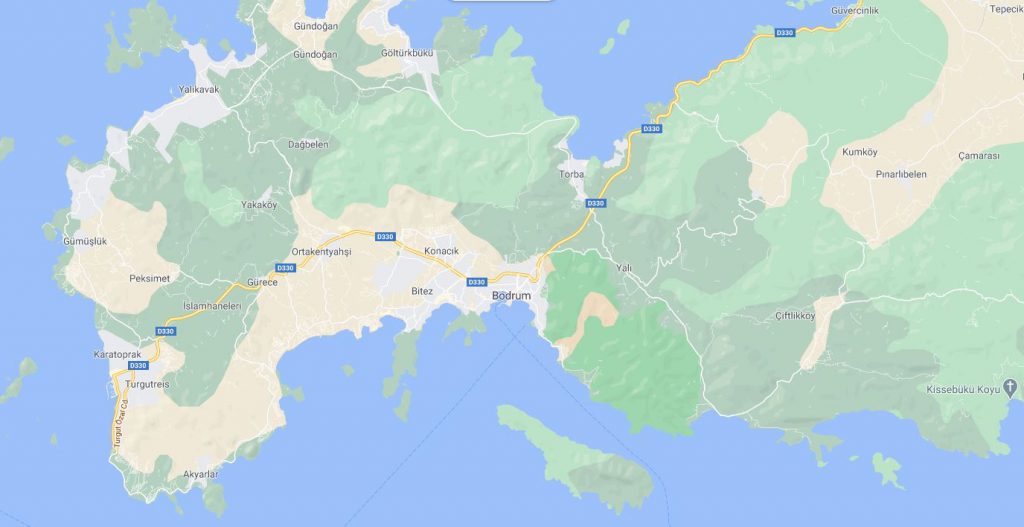 The city is built around the port and Bodrum castle and there are sea front cafes and restaurants you can hang out at along the waterfront. The architecture for houses in the region are usually painted white with some blue on the doors or windows, and some housing around the port follows this pattern.
The port has a marina for leisure boats and also you can catch ferries to nearby locations including Kos where you can then go across to other Greek Islands.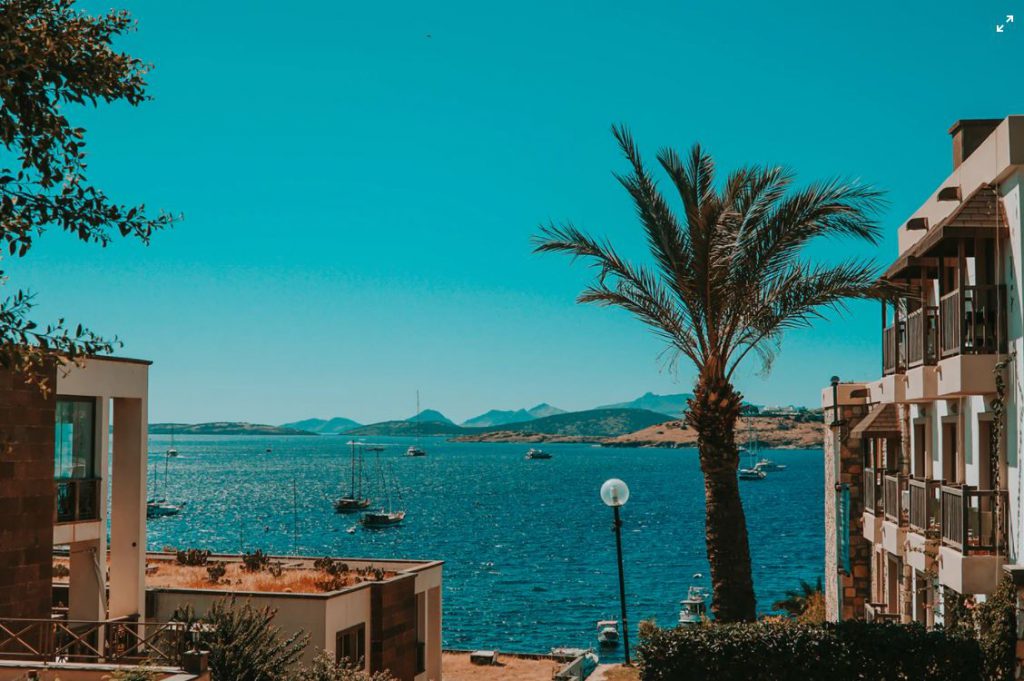 The sea is a beautiful warm blue and sailing boats dot the horizon. Out to the left from the seafront is the small turkish island of Kara Ada and further away to the right is Kos. You can see Kos from several of the towns on the peninsula and it's worth considering a trip across there if you have time.
You can catch the local mini buses called dolmus to some of the bigger towns on the peninsular such as Gümbet and Bitez, and Turgutreis is on the end of the peninsula.
We visited Turgutreis, and from here we took a boat day trip around the end of the peninsula ending up at Gümüşlük, a beautiful sea side village with good restaurants where you can sample the local catch.
Getting out on a boat trip was our best day, and the boat stopped several times for swimming in the warm Mediterranean, jumping off the boat into the sea. (You can use the ladder if you prefer).
Bodrum is surrounded by beaches, some are sand, some are more stony and in some places where there is no beach there are beach clubs with steps down into the water. The beach at Turgetreis was quite good, but you might prefer to seek out even better beaches. Gümüşlük beach is quite small, but out in the bay there is a small island you can wade out to at certain times. There are beaches closer to Bodrum if you prefer to stay near the city.
You can arrange tours from Bodrum to nearby attractions. Your hotel or tour company will probably help with this. We booked a tour to Ephesus, which was quite a way away, and a full day trip. The ancient city is very well preserved and has some important archaeological monuments to walk round. It's good to get a guide to explain the functions of the different parts of the city. We also had a photographer following us, who kept popping out from behind ancient stone walls to grab a shot. It was very warm and you need water and sun protection or soon you will wilt in the sun.
Turkish food is similar to Greek food but there are certainly healthy options. Don't think it will be all kebabs as there are many restaurants doing healthy food especially tasty fish dishes.
The Turks we met were all very friendly and happy to help us out as we explored the area. They didn't even mind when we crammed into full dolmus's and were happy to pass our fares person by person across to the driver.