My first impressions of Manchester in the '80s were not good. Arriving there as a teenage student I struggled with living in such an urban area. But after a year, I had started to make the city my home, and by making many walks around the streets, living in such a big city started to make sense.
As a student, my focus was on the south side of the city, the route down Oxford Road being my most well trodden path. Along this route there were many shops and food places that supplied my needs, and pubs and student bars for interesting nightlife.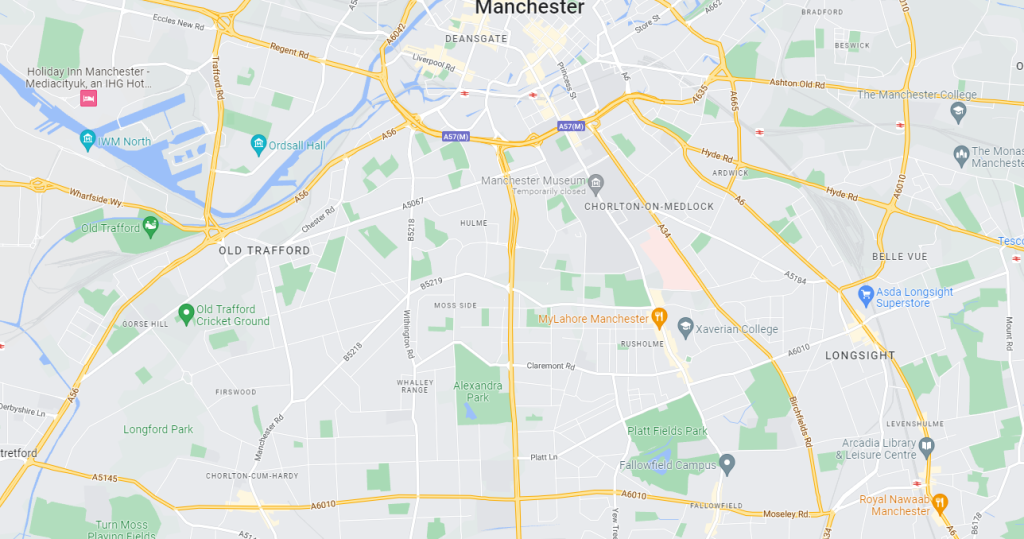 I learned which parts of the city to avoid and which would tolerate the huge influx of students Manchester has. Generally it seemed safer to hang out in the southern part of the city and I would visit as far as Didsbury and Chorlton, and further east Longsight and Levenshulme.
Some of these areas were quite rough, but they had character. The curries of Rusholme and slightly more upmarket bars of Chorlton became regular haunts. With such a flat city it made sense to cycle around, and I rode around on a sucession of bicycles, each getting stolen, and the next one being an even cheaper model, until I finally had a bike with just one gear and no brakes. That too got stolen.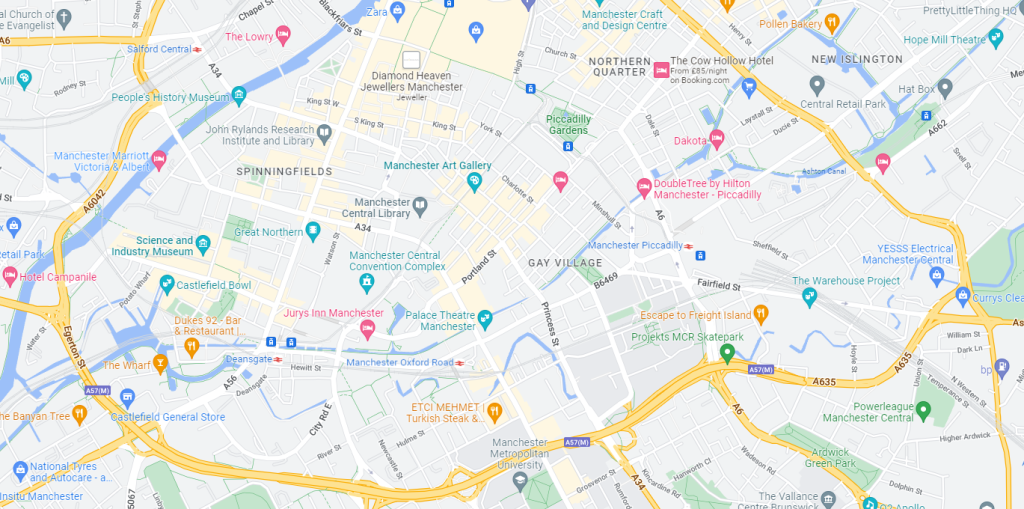 Now though when I return to Manchester, it's the city center that interests me. The bars of the North Quarter along with its funky shops and record stores. Affleck's Palace, an alternative shopping center on several levels is still there and worth a look. The part of the center around the end of Oxford Road is a favourite, though sadly the Cornerhouse is no more. Chinatown is worth exploring also.
Manchester Art Gallery often has some interesting exhibits and there are other galleries that pop up, though some don't always stay open long.
The work on Picadilly Gardens in the early 2000's has made this a safer place to be and with the opening of the Shoryu Ramen outlet somewhere I'm happy to eat during the day.
The tram system has opened up some parts of town I didn't use to visit such as Salford, and Salford Docks is an interesting part of town to look round during the day.
The main reason I go back to Manchester though is to watch music acts. Manchester excels for this. Probably even more than Leeds. The larger venues being the Apollo, the Ritz and the Academy – which has several rooms for gigs. Also there are bars in the North Quarter and around Oxford Road that do interesting gigs. The Apollo and Academy are a bit of a walk from the town center, but as everyone leaves at the same time and walks back together, they are safe enough.
The city also hosts music festivals, and we have enjoyed seeing the Psychfest event a few times with it's array of alternative artists. There are also more pop or dance orientated festivals if that's your thing.
There are plenty of decent hotels in the town center and shopping around can get you deals under £60 a night.
I had a bad start with Manchester, but now I know it better it has a lot to offer, and is still somewhere I enjoy going back to for a city break, catching up with old associates and looking for new haunts even if many of the old ones are gone.