When the weather is baking hot in Perth it's time to head to the south of Western Australia for temperatures a few degrees cooler.

Esperance is easily reachable by road and can be done with an overnight stop on the way. The total drive is about eight hours and a good place to break the journey is Wave Rock by heading on Route 40 east from Perth.
Wave Rock is one of the most unique rock formations in this part of Australia and as well as the rock itself has other formations around the area such as Hippo's Yawn, an impressive cave and the rocks and large boulders at the top of Wave Rock. There are also caves which contain Aboriginal paintings close by.
Along the route there are a couple of interesting graveyards to see. Dog graveyard and rabbit graveyard. Amazing how much love dogs have in this part of the world.

Coming down towards Esperance the Lake King area has an interesting landscape for a rest stop, and at Ravensthorpe you can stock up for your time in the Esperance area. My companions had a particular fascination for 'Op Shops' and wanted to keep stopping to buy old junk and long players along the route.
Esperance town is surrounded by three national parks: Fitzgerald River, Cape Le Grand and Cape Arid. We skipped Fitzgerald River as my companions felt the other two parks would be more interesting.
So with a quick stop in Esperance for a bite to eat and circuit of the pretty 11 mile beach road, we headed to Cape Le Grand.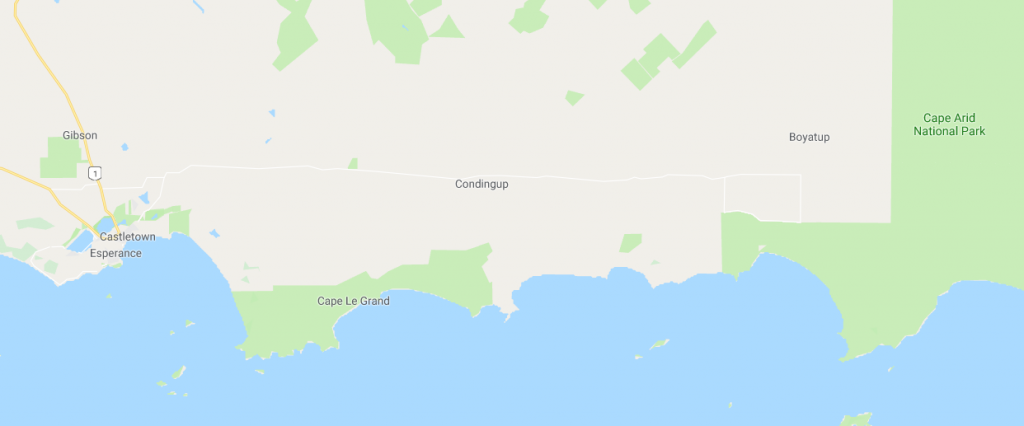 We were driving a vehicle capable of driving on the sand roads of the parks and had brought both swags and a large tent. The swags were good for quick pitching but not so good in the wet. The tent was more comfortable, but took longer to pitch and was more suitable for camp grounds.
Cape Le Grand has camping grounds at Le Grande Beach and Lucky Bay. They are quite basic but have barbecues, water and latrines. There were kangaroos hanging around at Lucky Bay. They seemed to be eating fish to our surprise.
The area has some good beaches to visit and have a paddle. Many have gorgeous white sand and have lots of interesting rock formations to check out. If you want a hike, you can climb Frenchman's Peak for a good view of the area. Ascent and descent can be done in a couple of hours. The path is reasonably well marked and there is a large cave just under the summit rock.
The road network in the park is quite small and you can easily cover it in a couple of days. The roads generally were quite passable, though some had large pools of water from overnight rains to blat through, keeping going to avoid getting bogged down.
We then went on to Cape Arid. This a larger park and you can get to more of it via sand tracks. Again there are stunning beaches and rock formations. It has more camp grounds than Cape Le Grand and it is first come first served. Costs are very low, one camp site not even asking for a fixed fee just for a donation. They are even more basic than Cape Le Grand and often unattended.
Close to Cape Arid you can see the end of the crumbling rabbit proof fence where it reaches the sea at the end of its 1000 km route from Kalbarri in the north.
Cape Arid has more of a feel of wilderness, and on one beautiful empty beach we saw a pod of dolphins swimming parallel to us along the shore.
If you're lucky you might also see whales, and the area is good for bush walking to see some of the many plant and bird species.
The road though to the east of the park at Israelite Bay was closed for our trip and the furthest we could go was Seal Creek. This is by a fab white sand beach stretching for a good mile.
We watched the waves breaking on the rocks at the end of the beach for a quite a while, and then our trip was over. It was time to head back to Perth for a well needed bath.