Cabo de Gata is one of wildest and desolate areas of Western Europe. It is the only true desert in Europe and has one of the most arid climates across Europe.
The area has volcanic features including old lava flows and extinct volcanoes. It also has salt flats along its coast with many species of birds making this there home including flamingos, larks, bustards, curlews and sea birds.
While there is only low rainfall, a number of species specialized to such a climate live there including reptiles, snakes and wild boar.
Offshore there are many islands and underwater coral reefs with an abundance of sea life giving good diving and boat trips.
There are not too many hiking trails there but there are a few good day hikes you can make through the landscape including to volcanic calderas.
The dry conditions have meant that few people have lived in the region as farming is difficult and new rules for the national park restrict building. As you travel around, you will see a number of abandoned buildings and churches. Some of these have become ghost towns and have been left as tourist attractions.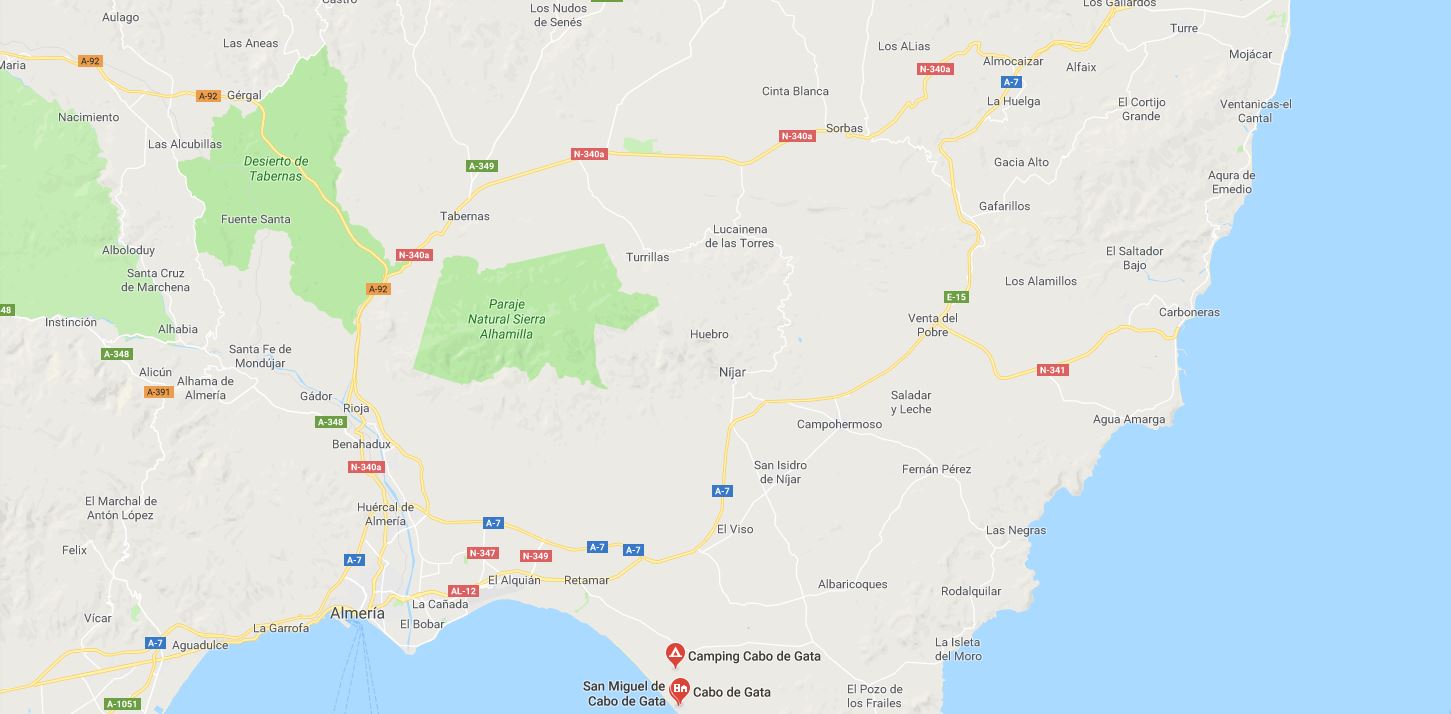 For our visit we flew into nearby Almeria and hired a car to look round the area. We were going to do a loop from Almeria to Tabernas, then to Mojacar, then back along the coast via Cabo de Gata. It was very hot when we arrived and the heat generally throughout the trip was 35 degrees C or more. Walking through Almeria we dodged from side to side of the street looking for shade.
The second day we headed out into the desert with a large 6 litre water bottle and two baguettes in the boot for emergencies. We were headed to Tabernas but got lost so took a small windy road up from Nijar through the mountains across to the Tabernas road.
Nijar was a beautiful little inland village, with very narrow streets, that had me cursing each time we met a car. The road out of town was quiet and we drove through the arid desert landscape.  The road wound round bend after bend going up, with drops to the side that kept my eyes on the road.
At Tabernas, we pulled off at Texas Hollywood, a film location for Spaghetti Westerns similar to the Good, the Bad and the Ugly, through to recent Westerns. We wandered into the village. It was split into three themes – my preference being for the Mexican village, though most of the action was in the American part.
A spectacular shootout took place – with four cowboys staging a gunfight in the street. It was very entertaining. Cowboys galloped into town on horses with carts pulling coffins. Falling out of windows from the second story headfirst onto bales of hay when they were shot. In the end the fattest, most disreputable character triumphed.
There are a few such Spaghetti Western towns in the area and it is well worth seeing one of them if you are in the area.
We headed to the coastal village of Mojacar where we stayed for 3 nights. A rough track to drive up, but the villa was beautiful and well chosen and had a small but good pool which we were glad of after long days in the desert. The villa was about two miles from the town, so we would head in for supplies.
On day three, we drove down the coast through the somewhat overdeveloped Mojacar beach resort, round some cliff roads with views over the coast. The coast was blighted by occasional half built hotels which were being built in the national park where they shouldn't have. The worst being near Carboneras on the edge of the park, like a huge half finished white ziggurat clinging to the cliff, extending up many floors.
Our last stop was Agua Amarga, which was one of the nicest resorts we found, but was very hot so the beach was out of the question. We found a small central cafe for a drink. Most of the town life was hanging out there, then we moved on to do a loop inland towards the mountains by La Cueva del Pajaro which were pretty nice.
On day four we stayed local, and went up into Mojacar hilltop village. Mojacar is split into the beach resort which was slightly tacky, and the hill village. The hill village was very cool with a nice breeze and we found a restaurant for a long meal with brilliant views over the inland area stretching to the Sierra de Badar mountains.
Our last day, we drove via the main road and some smaller roads to Las Negras, then looking for somewhere to eat, round to the Cabo de Gata region, via Rodalquilar and Los Escullos on the coast. Los Escullos was very barren but beautiful with huge potholes on the track to the beach where there were some nudists.
We arrived at the Cabo de Gata beach and found a place to eat – a Spanish fish restaurant where I had some pork chops and chips and embarrassed myself trying to order a beer with my 10 word Spanish vocabulary. The beach there was very long and can cope with many hundreds of visitors from Almeria. The water was crystal clear, and I wished we had longer there for swimming.
We drove to the end of the peninsular to a light house with a view over some jagged cliffs with small outboard boats and swimmers playing around the rocks. The road round the cliffs was single track with severe bends and precipices, which was interesting.
Time was pressing now for the flight and we stopped briefly for a dip at Retamar, not a particularly good resort near Almeria, but it was worth it for a last swim.