Seville was the first truly exotic city I visited. I was 20 years old and had just started travelling around Europe. Arriving in 40 degree heat on the train and walking across the city the first thing to amaze me was the beautiful parks. We walked down the gorgeous terraces into a panorama of colorful flowers and bushes framed by very tall palms.
With full packs we quickly were looking for shade and an outdoor cafe to get some liquids to refresh our dry palates. We were there to meet one of our parties school exchange student and after a while she showed up and it was time for a welcome beer in the beautiful sunshine. Later that week she took us to meet her family, and they put on a meal for us. It was my first experience of Spanish culture and it stuck in my mind for the next five years.
So when I bought a motorcycle capable of reaching Spain, Seville was top of the list of places to revisit in Spain. I was there for my birthday and that made it a special one.
Looking through photos on the internet now, I can see why the city had such an impression on me. There are so many beautiful buildings there. I remember first seeing the amazing Plaza de España with its moat in front, the moorish Alcázar Palace, the huge gothic Cathedral with its Giralda bell tower and the Archaelogical Museum, all stunning buildings.
We stayed in a small pension in the Santa Cruz barrio, getting lost in the maze of narrow streets, hoping we would get back there before it got dark. The streets too narrow for cars and every now and then finding a beautiful church or square as we wandered through.
I discovered a love for Tortilla, a traditional Seville dish made with potatoes and eggs, and always looked for it when I returned to Spain but never finding any as good as I remember in Seville.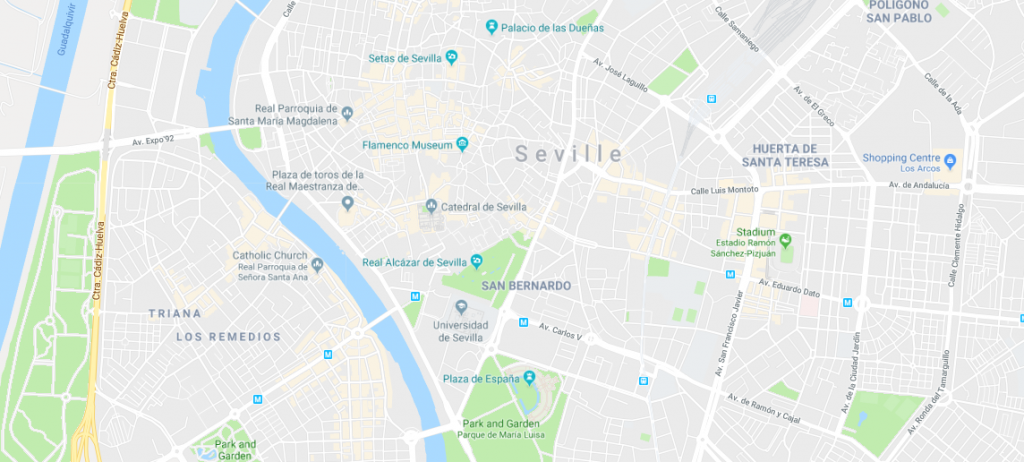 On that first trip we were limited to where we could walk, but for a few days in the city this was fine. The Alcazar, Plaza de Espana, Cathedral and Santa Cruz are all an easy walk from the train station. And returning there on motorcycle, I kept the bike at the pension I was staying at and again explored the city on foot.
When I did leave, I rode through the city sharing the streets with horse drawn carts carrying beautiful senoritas enjoying the sun in their gorgeous airy dresses while I was sweltering in my leathers and helmet.
Seville is somewhere I have to go back to, and this time stay more than a few days. Inland Andalusia has to be my favourite part of Spain and it deserves a much longer look next time.
Image by Kaja Kozłowska (cc) : flickr