Kraków is known as one of the cultural cities of Poland. Arriving there most people will probably head to the old town. The main square Rynek Glowny is the hub of old town surrounded by medieval buildings and in its centre the old Cloth Hall.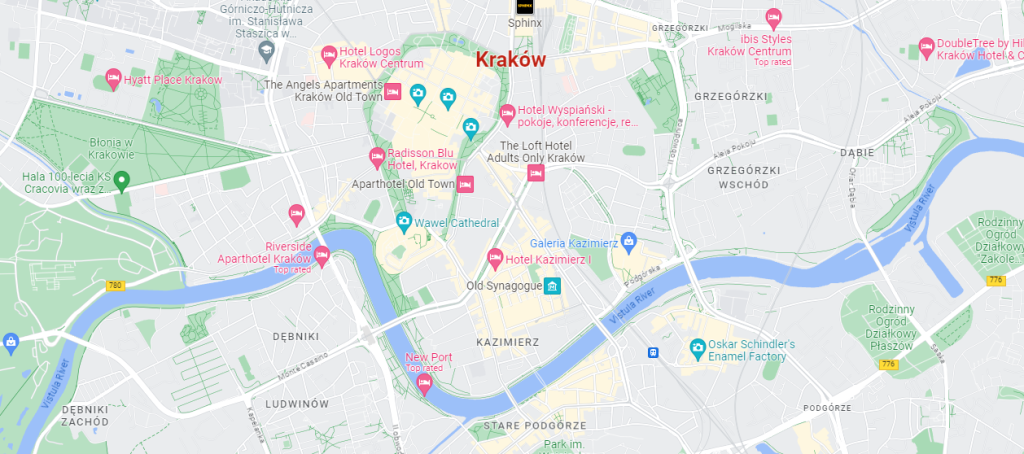 The most striking building is St Mary's Basilica. With its two spires of uneven height it is an iconic building for Poland. It has an equally impressive ornate and beautiful interior. There are two doors to enter, one for worshippers and the other for sightseers.
The square is surrounded by restaurants for tourists and locals to sit in the open air and people-watch while they eat.
In the neighbouring streets are shops selling all types of goods including Polish food: doughnuts, Polish ice cream, Pierogi and much more are available. Street sellers have carts selling Polish bagels which you can grab for a bite to eat if you want a quick snack.
Walking around the old town there is a lot to see such as old churches, remnants of the city walls, fortifications, interesting streets and architecture, museums and galleries. You can easily spend a day exploring its streets.
Between the old town and the river is the Wawel castle. Inside its grounds are exhibitions, historical buildings and a cathedral. There is an entry fee to the castle main building but the grounds are free.
The Vistula river passes through the city and is the longest river in Poland. There are several companies offering boat trips of different lengths and you can see some of Kraków's architecture and landmarks from the river.
Around the old town is Planty Park. You can walk a full circuit of the old town in the park. Its about 4km and there will be many Polish people walking or relaxing there.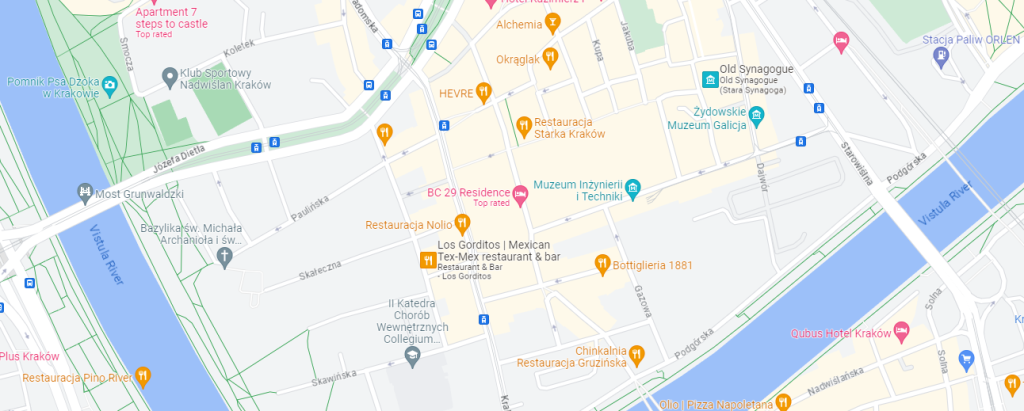 Next to the old town is the Jewish quarter of Kazimierz. This was a separate town settled by a mix of Jewish and Polish people prior to World War II, emptied in the atrocities of the war. It became derelict for many years but in recent years has been renovated, and is once more habited with markets, cafes, bars and restaurants. There are several Jewish synagogues, some Christian churches and Shindler's Factory where you can find out about Kraków's war time history.  We visited on Sunday morning when it was quiet, so choose your time of when to visit depending on what you want it to be busy or quieter.
Two days in the city will give you time to explore the old city and Kazimierz. If you have more time there are popular excursions you can take such as the Salt Mines and Auschwitz.
Kraków will be reached by most travelers through its modern international airport, but if you are already in Poland you can reach it by train or coach.
Poland has a rich history and culture and Kraków is a good place to start exploring.