The Lake District or the English Lakes is a region of lakes and mountains in the north west of England below the Scottish border. It is one of the most popular national parks in the UK and has a unique landscape and choice of pastimes for the visitor.
It contains some of the largest lakes in England and Wales and the highest mountains in England.
It provides excellent hill walking, mountaineering, rock climbing, sailing, canoeing and other water sports. The roads are some of the most picturesque in the country, and are superb for cycling, motorcycling, and joining up off road sports such as mountain biking and green laning for trail bikes.
Visitors will generally come to the Lakes from nearby cities, via the M6, down from Scotland, or across from Yorkshire. At times, it seems there are rather too many visitors and areas such as Windermere can suffer from over-tourism at times of the year – holidays and good weather weekends.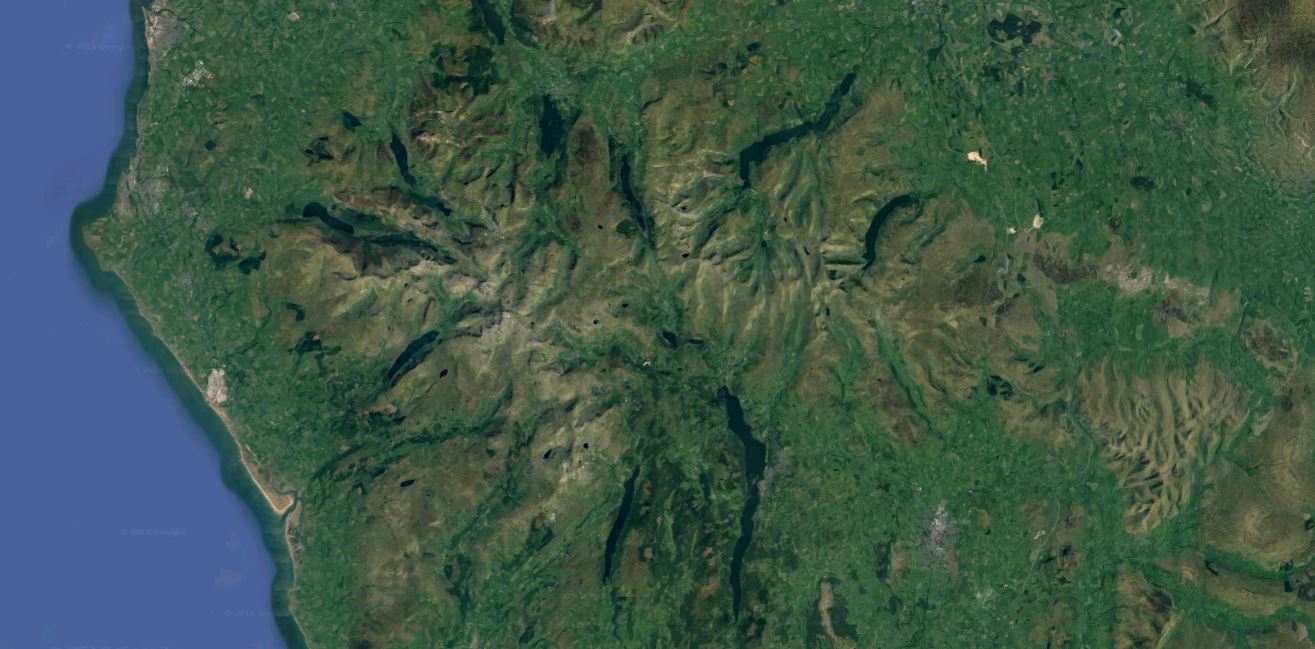 Windermere is the largest lake and has the most pleasure cruisers and other types of boat, and its towns of Ambleside, Bowness and Windermere are some of the most popular destinations for tourists. It is the most accessible area being on the east of the lakes, but to find more relaxing spots you need to travel further into the Lakes.
Coniston and Ullswater are smaller lakes, but still good for day sailing. Traffic and parking can still be a problem, but if you visit out of season or the outside the main school holidays they should be quieter. They are set next to beautiful mountains, Coniston having Coniston Old Man at its north west end, and Ullswater being close to Helvelyn.
Smaller lake Derwent Water is close to Skiddaw and its main town is Keswick. Scafell Pike the highest peak in England is by beautiful Wast Water and includes Great Gable in its range.
The Lakes is good for both day walking and long distance walking. At least seven long distance walks pass through or are contained in the Lake District and provide some of the best walking in England and Wales.
Choosing where to stay will depend on what you want to do in the Lakes, how far into the area you want to go and your budget. There are hotels, guest houses, cottages, barns, pubs, Youth Hostels, camping & caravanning.
If there are a group of you, maybe with families, sharing a cottage or cottages close together can be a good idea. If your party are a fan of the outdoors, there are many good campsites, usually with good facilities and a nearby shop for provisions. A group of families camping together on the shore of a lake can have a great time, especially if there are some boats or canoes involved. For a change from the lake, you can head into the nearby mountains for a days walking and if the weather is fine splendid views as you get up higher. If you don't like walking uphill, you can walk around the shore of many of the lakes, sometimes for several miles.
Just turning up in the Lakes tends not to work too well as it is so popular, and you really need to book in advance, even for camping or you may find yourself disappointed. If you need to come in school holidays, Spring Bank and October half term will be quieter than summer, and hopefully will have reasonable weather. Being one of the wettest parts of the UK, it is a good idea to have some backup plans if you do get wet days, if only a pack of cards. Wifi might not work!
If you don't yet sail, several of the lakes have sailing schools, and you pick it up quite quickly, maybe going on to getting your own boat. Toppers and Lasers are great fun, and even older boats like Enterprises, GP's and Wayfarers are a good sail. If you are thinking about buying a boat, this page gives some general ideas of the types of boat, what type of use you may get out of it, and advice on which to buy.
If all this activity is not for you, then the Lakes is a great place to unwind too, just find a place to stay away from the crowds, and enjoy your book or newspaper out in the fresh air.