I'd passed through Singapore airport a couple of times on the way to Australia but never gone out of the airport. So on my third journey through, I decided to have a day visiting Singapore downtown between flights.
I had a old guide book I'd picked up from a charity shop which I'd been reading on the plane, and that was all I knew about Singapore.
I'd enjoyed flying Singapore Airlines before, one of the better long haul carriers, and I knew Changi Airport was a good airport. On trips through before I had seen the gardens in the terminals and used the spa and shower services to get me feeling better for the next leg of my journey.
Going through immigration was straightforward, as was getting onto the MRT train into the city. I was nearly caught out by a need to change train after a couple of stops at Tanah Meray to another train into the city, but realized just in time.
I didn't know where I wanted to go in the city as my research had been quite poor, so I got off the MRT in the downtown area. I came up out of the train station and was surrounded by sky scrapers. This was before Google Maps and I didn't have a printed map. I could only see very tall buildings around me. I wasn't sure what to do.
After a few minutes hanging around I realized that there were a stream of people passing by wearing numbers like they were heading to a race. I decided to follow them as I thought they must be going to an interesting part of the city.
They were in fact heading to the waterfront where a Sunday road race was being held. I now had my bearings and hung around the waterfront watching the race of people of all ages enjoying running through the fog.
The fog wasn't so good for photos though and the cityscape didn't look as impressive as it might have done in better weather.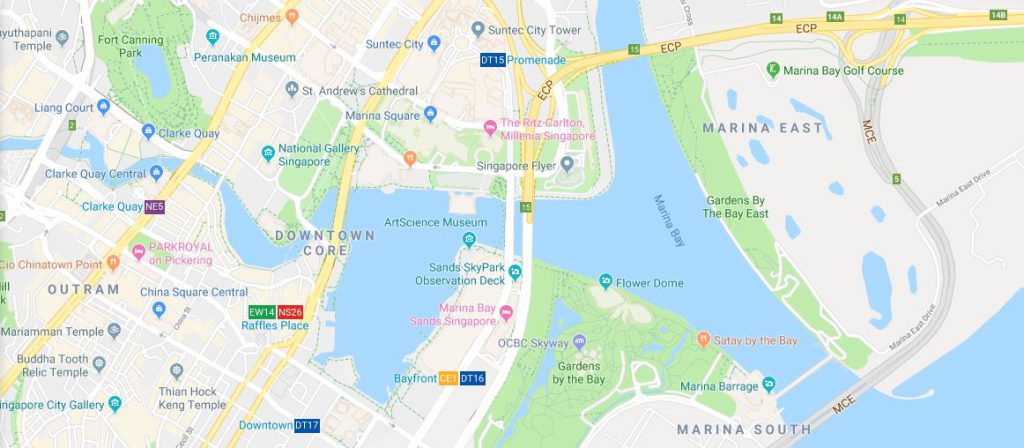 I walked around the waterfront promenade checking out the mix of urban landscape and city gardens that the Singaporean architects had designed. The day wasn't good enough for photos but there were some interesting buildings and parks such as Gardens by the Bay to see. There were also some large malls with gardens and water features.
I decided to try one of the mall restaurants for a meal for lunch. I made a bad choice. The meal was not nice at all and I struggled to eat it. It was a kind of meaty broth, and I had to leave half of it. I continued my walk and found a more authentic food court – Lau Pa Sat. It had a beautiful old roof and this looked like a much better option. I was partly full from the horrible broth, but I bought some more food and it was a lot better.
I had only explored a small part of the city and didn't see many of the best things that people later told me about, but at least I had seen some of it. I headed back to the MRT to return to the airport for my next flight. I didn't know how long it would take me to get back to the right terminal through customs so I left loads of time. So much time, that I was able to use the spa and shower services and explore more of the airport terminal's gardens.
My next flight to Australia will be through Singapore I've decided, but if I am to go into the city again I need to have a much better plan. Still now I've made that initial foray, I will be a lot more prepared for the next visit.