Analipsi is a small village in the Peloponnese region of mainland Greece. Not to be confused with the place of the same name in Crete. The closest city and airport is Kalamata to the east. The main reason you would go there is the long beach near the village. It goes from Bouka Beach along to Velika Beach and maybe further.
Not one of the main tourist spots in Greece, it is becoming better known and more flights are going there from the UK. The focus of this blog is the beaches mentioned as I didn't visit Kalamata city or Messini.
It is only a 2 and a half hour drive from Athens so is within easy reach for Greeks wanting a laid back holiday out of the capital or from anywhere in the Peloponnese.
There are a number of types of accommodation available: some large all inclusive resorts, smaller hotels, beach houses and also parking along the beach road for van-lifers and camper vans.
My family opted to stay in an all inclusive resort, except for a couple of meals out, while I stayed in a beach house 300 meters away down the beach.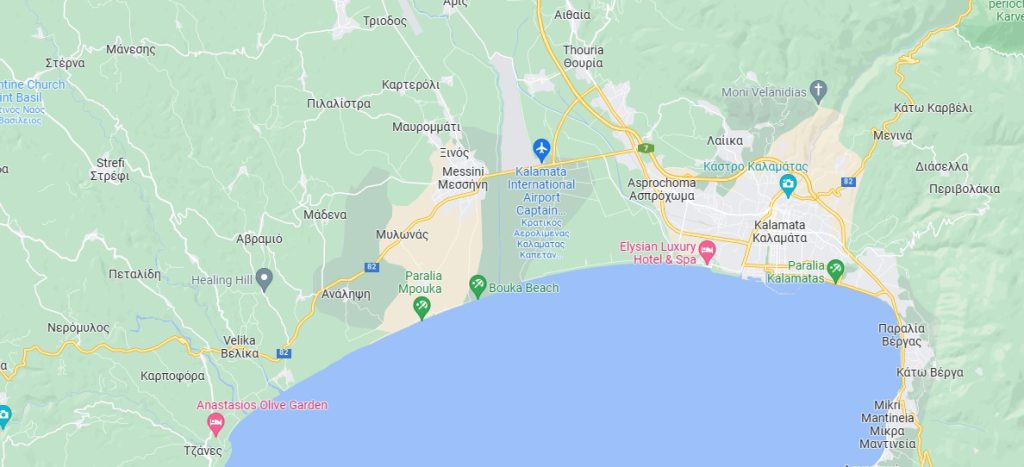 Camper vans were there from Western European countries chasing the last of the sun as the year moved through autumn. Mid October was still plenty warm enough to stay by the beach, and for someone from UK it seemed pretty warm, any warmer it would have been sweltering.
I didn't arrange a vehicle for when I got there, so jumped in a taxi from the airport to get to my beach house. Really a vehicle would have been a good idea as there were no shops within walking distance in the heat, and there were only 3 restaurants open at that point in the season. There was a fruit and veg seller who was there all day at her stall near the beach, selling fresh produce from the fields. There was also a cafe open in Analipsi village.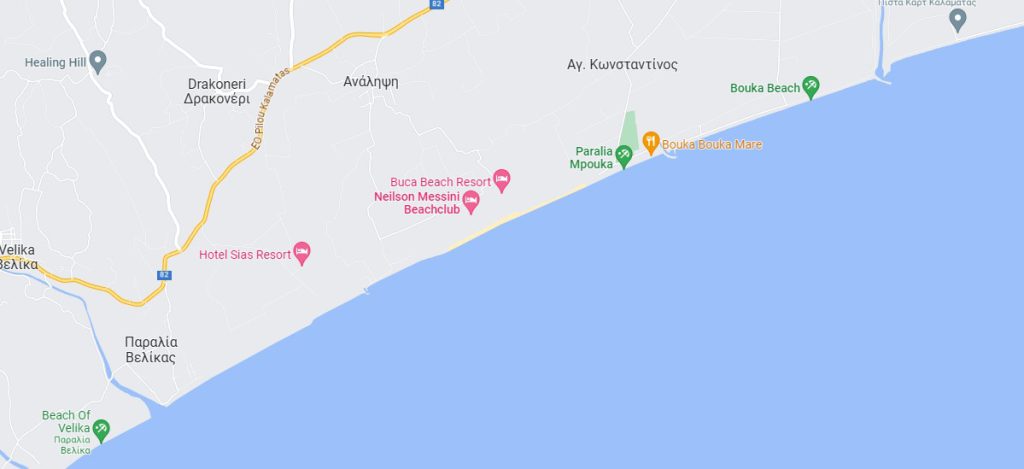 But for a week, it worked. Lots of fruit and Greek meals of meatballs, souvlaki, kleftiko and other grilled meat and fish were available. It was a healthy diet, and I felt good on it, losing some weight.
There was a beach bar still open, and you could get a drink and ice-cream and chill on one of their loungers free of charge.
It was too hot to walk for more than a couple of hours in the sun and in the first three days I established the range that I would explore. Up to Analipsi village and west and east along the beach. There were also rural side roads to explore through fields of olives and other crops.
Once I'd got the lie of the land, I turned to the sea. The beach was long and sandy and by my beach house I often had it entirely to myself. There were no security issues leaving stuff on the beach while I swam. The sea was very calm and beautiful in the mornings, and choppier in the afternoons when a breeze got up. It was warm enough to stay in as long as you wanted.
I didn't expect to see any fish as there were no rocks nearby but I was wrong. Once I'd been in the sea half and hour or so fish started coming around me. At least three species. They were all quite small, the largest about 6 inches and they had different behaviors. One stayed by the pebbles near the shore, another darted along just under the surface feeding and on the last day I was surrounded by shoals of small fish, about an inch and a half long. Ok, no manta rays or whale sharks, but I was happy.
For my family, they did their own thing, lots of cycling and sailing. With plenty of other activities and tours available from their resort, they were kept fully occupied. I spoke to a lady who stayed at the same resort and her favourite activities were swimming with horses and visiting some of the nearby ancient ruins. She said she had gotten so much more out of it because her guide had explained the history behind the ruins and how people had lived there in ancient times. Her husband had won the tennis tournament so he was happy too.
For me, I enjoyed the peace and tranquility. Simple living in the sunshine, with good food, swims and walks.
It's somewhere you can choose your own way of life; it can cater to a range of visitors who enjoy themselves in different ways, but meet up for drinks or a meal and discuss the day gone by.