Fremantle down the Swan River from Perth is a chilled out town on the coast with its own beaches and main strip full of coffee shops and restaurants. It also has a great park between the town and the beach for relaxing in those warm summer days.
From its port you can take boats across to Rottnest Island and up and down the coast. It has a long history as a port and there is a maritime museum with exhibits to show its role in shipping in Western Australia through the years.
In some ways the town has more charm than Perth itself and is a better place to stay if you only have a few days in WA. If you want to go into Perth or head to one of the beaches on the way you can take the train there which stops between North Fremantle and Cottesloe for access to the beaches before heading inland to the capital's train terminus in the city.
The coffee strip has as well as coffee and wonderful cakes many other varied shops to check out and there are some good pubs such as the Sail and Anchor and The Newport which often has live music. Behind the strip there is also the Federal Hotel (was Rosie O'Grady's) and a bit further away down the back streets Clancy's Fish Pub which does good meals. There are also shops doing amazing smoothies and ice cream and it's very hard to say no to all these treats.
A favourite hangout for me is the Fremantle Swimming Pool. This has a very easy going vibe, and as well as a large indoor pool, a 50 metre outdoor pool for getting in some serious laps. Whenever I'm staying in Freo I like to head here for a relaxed couple of hours. There will be some amazing swimmers, but there is enough space to find a lane where people are swimming at close to your speed.
At the end of the strip is a covered over market. This isn't open every day so check before you go, but has a good variety of stalls selling all sorts of weird and wonderful oddments. Across the road is a small open air food court, where you can eat cheaply from a choice of South Asian foods some of which are delicious.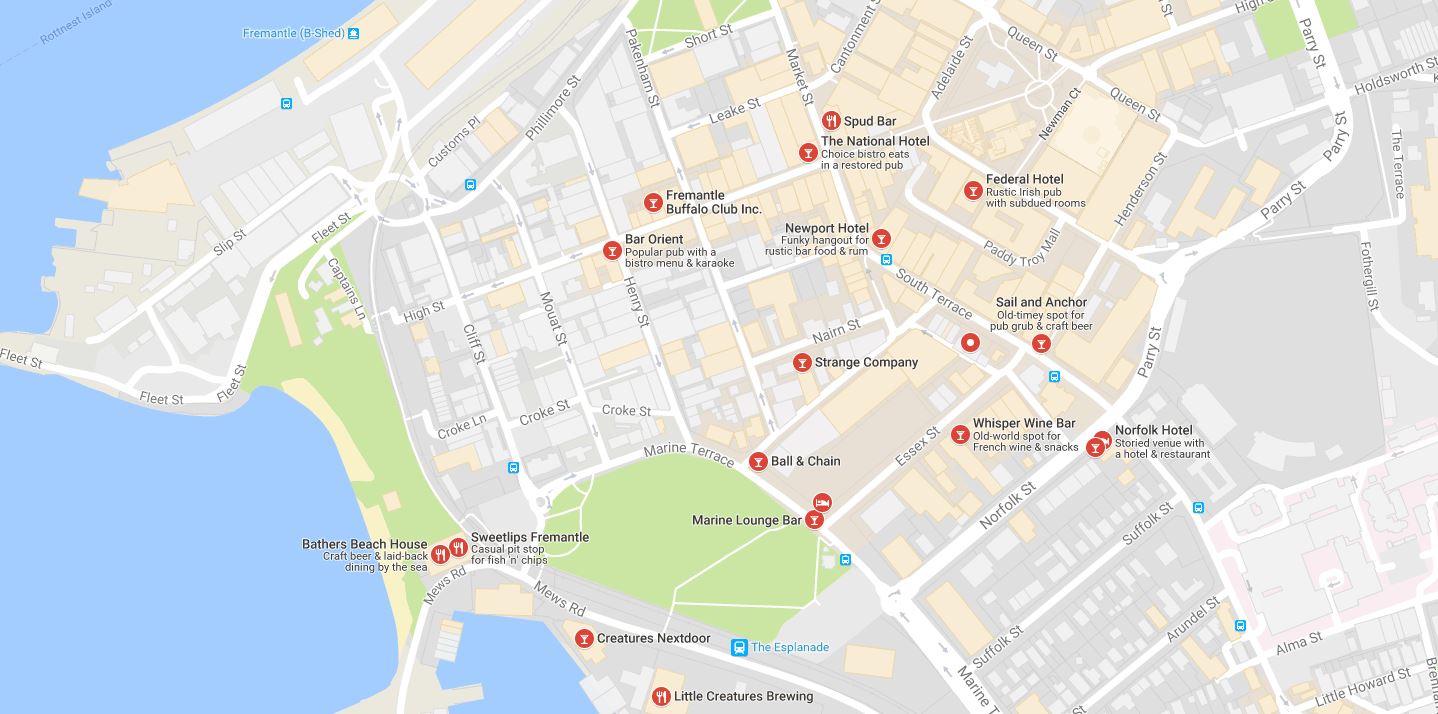 Fremantle has its own carnival, which as carnivals go is very good. The parade will go past for many minutes with dressed up men, women, children and Chinese dragons – fun for all the family. Get yourself a good spot and bring your camera – there will be many great shots. There will be drumming bands and dancing and this often goes on for quite some time after the parade has made its way round the town.
There are several places to stay including guest houses, hostels and hotels/pubs. The hostels may be more for a younger crowd but I've never had any problems staying there. Guest houses will include breakfast options.
If you staying are in Fremantle for longer, you may get involved in the party scene. Most weekends someone will be having a house party, they often have DJ's and fancy dress, word gets around the locals where the party will be happening. They can be a great way of meeting the locals.
The community in Fremantle was once described to me as being quite transient. People will stay there a few months or years and then move on to another part of Australia or the world. I think this is due to the remoteness of Perth and Fremantle and while the scene there may be good for a while people will often look for something different after a period.
For beaches, Freo has a few right by the town. The tiny Bathers Beach is close to the fish and chip restaurants on the water front and you can get some chips, try not to lose them to the gulls, then watch the sunset over the ocean. South Beach is by the district by the same name and is a beautiful place to while away the day. There are stalls set back from the beach to get drinks, ice creams and snacks during the day.
Little Creatures Ale is now becoming available across the world, but the brewery which started it all is on the waterfront in Freo. They have all the different brews and food also and you can enjoy a drink surrounded by the enormous metal brewing tanks in the bar.