The French Alps are one of the most visually stunning parts of France. From Lac Leman in the north they stretch south to the Mediterranean, with the Alps Maritime reaching the sea near Nice.
Flying over them you can see the scale of the range, and of course the Alps continue east into Switzerland and Northern Italy where the mountains are no less impressive. You can often see Mont Blanc the highest peak as you fly into the region. At over 15000 feet, it has a very impressive massif and is no easy feat to climb with fatalities every year.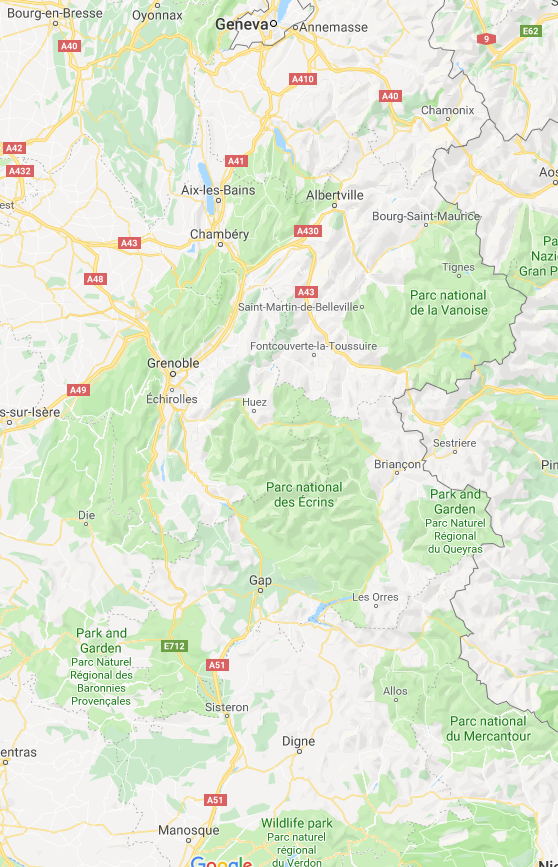 There are a number of important French towns in the area. Aix-les-Bains, Albertville, Annecy, Briançon, Chambéry, Chamonix, Cluses, Gap, Grenoble and Tignes being just some of them.
As well as the larger towns there are many ski resorts whose population swell with winter visitors in the ski season.
Of course the alps are popular in the winter months, but they are also great for spring, summer and autumn visits.
It's good to stay in one area and do some serious hill walking in that region in the warmer months.
Some cable cars run throughout the year, so you can use them to get high for walking, or just to get a view from up high.
There are many good camp spots in the area where families can stay, and enjoy the outdoors. Visiting one of the rivers can be good for water sports and swimming when the water is warmer in the summer.
If you are visiting for winter sports and coming from outside France, flights come into Lyon, Geneva and Grenoble. Transfers can be arranged with your ski company or you can catch trains to major towns like Chamonix. It is also possible to drive there. From the north of England it took us 14 hours to get to near Grenoble. So if you are coming from the south of England it will be less, or possibly less still if you are based in mainland Europe depending on where you are.
There are so many ski resorts in the area, it isn't possible to review them all but some good places we skied are Avoriaz near Morzine and Chamonix. If you go to somewhere like Avoriaz you can ski from the chalet door, whereas Chamonix requires you to catch buses to the base of the ski runs around the valley.
Choose your ski resort based on your parties abilities, most resorts will have a range of difficulties but some are focused more to beginners and some have more intermediate or difficult runs. Many of the resorts are part of larger ski areas and you can do many different runs right across an area.
Chamonix is an all year round climbing destination and climbers will congregate there for a summer of climbing and mountaineering, camping near to the mountains.
The scenery from the roads is also stunning, and you can mountain bike or road bike. Riding motorcycles or even driving a car around the mountain passes can be fun.
There are also places where you can hang-glide or para-glide for amazing views of the mountains. Launching from high on the mountain in a para-pent, you can be in the air for up to 30 minutes for an incredible experience.
There are a number of alpine specialities you can try from mountain restaurants. Raclette, Fondue and Le Farçon being just three. There are also regional drinks like Le Genepi liqueur to try.
The Alps are home to thousands of animal species, the most well known being chamois, ibex, marmot, wild boar and wild sheep. There are also golden eagles, bearded and griffon vultures. Wolf and lynx have been reintroduced to the area after being hunted out in the early 1900's. You are not likely to see the more reclusive animals unless you get into the wilderness regions on foot.
There are also many alpine flowers species. They have adapted to the range of weather conditions the terrain throws at them but many are at risk with climate change forcing them to move from their traditional locations to higher altitudes. Edelweiss, alpenrose and gentian are some of the most well known but there are over 300 species native to the alps that you may see on your walks as well as 4000 other species that are also found elsewhere.
Image by ariel wants a chip (cc), flickr