When a friend has a friend who lives in Stockholm and is prepared to let you stay in her flat for a week for very little, you are truly in luck. Stockholm is known as an expensive place, but any accommodation that's reasonable value close to a Metro station is going to be worth looking at. The Metro system is extensive with over 100 stations and lines going out in around 10 directions and that gives you lots of options for a place to stay.
Main image (cc) : ezioman flickr

The city is located within an archipelago of hundreds of islands with fourteen larger ones which are built on. It includes many waterways, parks and green space. With this and the pastel coloured buildings, it really is a beautiful place to visit.
I first visited the city on an Inter rail trip from Norway, through Sweden and down through Denmark – but Stockholm was the Scandinavian urban highlight for me. When I was invited for a longer stay five years later, I was very happy to go back.
Many of the Metro stations are underground, and I was delighted that the station close to our apartment had a replica life size moose in a showcase in the tunnels. Even more of the tunnels have art in them now, and it's a lot of fun to find new pieces as you travel around.
You can start a tour of the city in Gamla Stan. One of the smaller islands in the city center, it has some of Stockholm's oldest medieval buildings. The colour scheme of the houses is very pastel, with oranges, reds, yellows and pale browns common. From Gamla Stan you can walk across to nearby islands which include palaces, museums, parks and amusement parks.
We chose the Skansen open air museum. This contains many traditional Swedish buildings from the 1700's to the 1960's and you can learn much about the history of Sweden. It also houses a conservation area for animals, and you can see brown bear, moose, reindeer, european bison and many types of endangered birds.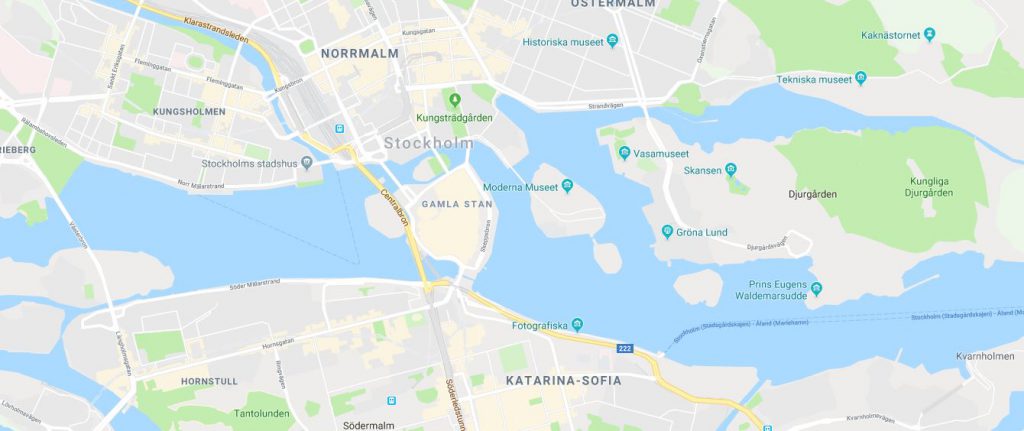 Stockholm's restaurants are known for not being cheap, but you should eat out at least once on your visit. The most novel dish on the menu where we ate was elk, and I was encouraged to try this. It was the most difficult meal I've ever tried to chew. Each time you thought you had chewed the meat enough you realised it still wasn't chewed enough to swallow and you had to keep chewing some more.
A fun excursion in the city is to catch a ferry to one of the islands for a day or overnight stay. There are a wide variety of islands to choose from, each with different characteristics. We caught a ferry to Finnhamn, quite a way out in the archipelago. We were on the boat a few hours and saw some of how the waterways functioned, for example calling at a boat fueling station along the way.
Finnhamn was a beautiful place by day, and the forests were lovely to walk through, encountering animals, gorgeous views over the islands, with rocky beach spots to go for a swim. We slept overnight on the island in our sleeping bags and this was when the island showed another side. The island was infested by mosquitoes from dusk onwards, and it was impossible to sleep. They were even biting through the sleeping bags. We were glad to get back on the ferry the next day and go back to our comfortable apartment.
If you are worried about the cost of Stockholm, there are many things you can do there which are free or budget friendly, and the Visit Stockholm has a list of these.