The tricky thing about Hossegor is figuring out how to get there if you're not driving from France. It's situated between Bordeaux in the north and Biarritz in the south. Biarritz is much closer and Bordeaux means an almost certain car hire to get there.
Biarritz though only has a small airport with a few flights a day. I did manage to find one though from Paris and found a good hook up flight to there from Manchester in the UK, both on Easyjet who performed very well.
Once you're in Biarritz, how do you get to Hossegor which is 50 miles away? There are a couple of buses per day, there is a train that takes you 6 km away with a taxi or two hour walk along unknown roads, or again car hire.
I was going to Hossegor to watch the Roxy Pro / Quicksilver Pro surfing competition in October. I didn't know how far the competition would be through by the time I got there, but before I flew the women's competition had reached the semi's and the men's the quarters. I decided to hire a car.
I picked up the car at the airport and had a very fraught half hour driving a strange car in a strange country in the dark. I didn't miss any more of the competition though.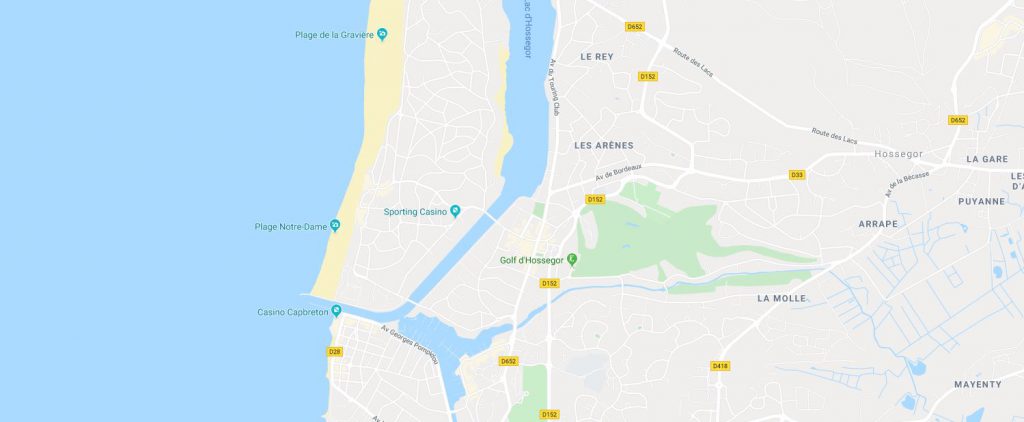 The competition was on hold for a couple of days as they don't surf unless conditions are suitable, and this gave me time to look around the beach and resort. I was staying centrally at the Oskar Hotel which was very good and not too pricy. The beach is beautiful, with gorgeous yellow sands and waves of differing sizes depending on which break you're at. La Gravière where the competition was held had the largest waves with breaks further out and an amazing barrel close to the beach. The whole of this Atlantic coast has great beaches stretching from Biarritz north to Messanges. There are campsites in the woods as you go north which are great for family holidays by the dunes.
The resort has a number of restaurants and bars in a small square by the beach with a large TV screen to keep track of the competition and show other surfing related videos. It is really well set up for surfers.
Further back from the beach there is a small town center over the canal which has more shops, cafes and restaurants. If the weather isn't so good or you need a break from the beach you can chill out here for a couple of hours.
Hossegor is next to Cap Breton and you can easily walk here where two rivers meet at the old port. There is a marina to look round and you can hire jet skiis. There are restaurants around the port and out to the other side along the waterfront.
The southerly side of the pier seemed to be popular with paddle boarders while the north side was more for surfers on the easier waves south of La Gravière. Fishermen were fishing off the harbour walls and jetties on each side of the river.
I'm not sure as a solo traveler you would want to spend more than a few days at Hossegor if there was no competition going on. Probably not enough to do unless you wanted to join a surf school or were already a keen surfer. If you're with a group hang out there as long as you want, it's a beautiful place and the sea is fantastic.