After two years in chilly Switzerland at New Year, then last year in snowy Paris with a broken coat zip, I was ready for somewhere a bit warmer. So onto Skyscanner for flights from Edinburgh to somewhere nice and warm then back into Manchester for New Year celebrations. After a while searching only one thing was popping out.
Reykjavik!
Ok, not warm at all, but somewhere I'd never been in winter and had loved in summer.
The flights booked, time to get a nice central hotel. But the hotels were all booked out in the centre. It looked like Reykjavik was going to be pretty busy after Christmas. Maybe tourists or maybe Icelanders flying home for celebrations? I didn't know but I had to stay somewhere.
The best option I could find was a youth hostel – Oddsson about 20 minutes walk from the center. I got a private room and the hostel was really new. A refurbished warehouse Oddsson looked pretty funky with a good bar/restaurant on the ground floor and hot tub on the fourth floor and sea views from many of the rooms with the snowy mountains on the other side of the bay.
Edinburgh airport was a pleasant experience compared to airports like Manchester that I usually used. No big queues, friendly staff and soon onto the Wow flight which had loads of leg room for a happy trip.
We flew across the west coast of Scotland with the lochs looking beautiful surrounded by brown mountains with snow white tipped peaks. Arriving over Iceland the landscape was covered in a beautiful wind blown thin layer of snow. Like another planet.
Swiftly exiting the airport and onto a coach into the town centre, a 40 minute drive away. The coach lady wanted to know where I wanted dropping off? The hostel was an option, but I thought I would get dropped in downtown, have a wander round before it got dark, then head out to the hostel.
The bus dropped me at Stop 6, close to Laugevegur, one of the main streets downtown. I felt very happy to be back.
Some things to do in Iceland in the Winter
I didn't plan much for the four days I had in Reykjavik as I didn't know what would be available and I thought it would be very weather dependent. I decided to figure out what I would do once I was there.
Northern Lights tour
One thing I did book onto was a Northern Lights tour with Reykjavik Excursions. This was very good value at £40 for a four hour tour. I was picked up from the hostel and taken to the tour company's bus station to transfer onto the tour bus. The guide had a very idiosyncratic delivery but had most of the bus chuckling at his dialogue. He warned us that we would be on the tour for 4 hours and there would be no toilet breaks, so make sure we went before leaving the bus station.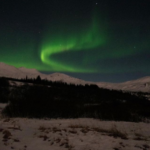 We drove out into the Þingvellir National Park to get away from the city lights. As it got dark around the coach, we traveled through snow fields, with hills showing in the dark to the left of the coach. After we had been driving for around 3/4 hour the guide told us to look to the left above the hills where he could see a creamy white line above the hills. He said we were in luck and this was an aurora. It was difficult to see through the coach windows but after about 20 minutes the coach pulled over and we could get out. The aurora was clearly visible to the naked eye. Mainly a greenish sweep of colour above the snowy hills. At one point the aurora started moving and changing colours. We were seeing the Northern Lights.
The guide gave us some tips on photographing the aurora. He said he wasn't a photographer but he had taken photos of the aurora for many years. Ideally use an SLR or camera with a long exposure setting, leaving the shutter open for 10-15 seconds. 1600 ISO or faster and wide open aperture. Fairly crucially a tripod for the long exposure and ideally a shutter release cable to avoid camera shake when pressing the shutter button.
I didn't have this kind of equipment, but had a mini tripod that I could put on some railings or an hut window ledge. By setting the camera to timer delay mode I was able to avoid pressing the shutter avoiding shake. The best shots came when I wasn't touching either the camera or the tripod, and with this kit I was able to get Instagram satisfactory pics if not photos I would put on my website.
Golden Circle tour
A second tour I booked onto (once there) was the winter Golden Circle tour. This is the most popular tourist tour in summer and I had done it on my first trip to Iceland ten years back. I wanted to get out into the landscape and see what Iceland looked like in winter. Seeing the three sites again – Geysir, Þingvellir lookout and Gulfoss a bonus.
Even saying that seeing Geysir again still blew me away the first time Strokkur went off up close. I didn't shriek like some of the tourists, but there was a shriek in my head.
Gulfoss was awesome with large parts of the cascades frozen with more water pouring over the top, and the view from the Þingvellir lookout across Þingvallavatn lake stunning. Even surrounded by tourists these places are incredible and I was happy to be there again.
The sun was low all day but beautiful on the horizon. It was showing from around 11.30am to 4pm so booking on the slightly cheaper shortened Golden Circle tour made sense and there was daylight for all three of the attractions.
Reykjavik
There are many things to do in the city, but I chose to go to the Reykjavík Museum of Photography where I had seen good exhibitions before. This time they were showing a quality exhibition about a famous Icelandic murder. Very good photography and worth the admission price. I would choose between this and the Reykjavik Art Museum depending on whether you prefer photography or art.
A second museum was the tiny Icelandic Punk Museum. It was entertaining as the proprietor was making visitors dress up in punk gear and pose for photos playing instruments for souvenir photos which he took on your phone and later posted on the museum Facebook page. There was several small rooms showing memorabilia and history of punk music in Iceland.
Laugevegur main street is somewhere to check out at any time of year, the Hallgrímskirkja church was beautiful from a distance in the snow with all the Christmas lights, and Harpa concert hall offers some stunning views across the fjord and town.
One morning I wandered round the city in the dark between 8am and 11am shooting long exposures of the harbour area and street lit back streets. All the houses looking beautiful with Christmas lights and candles in the windows.
Another thing you can do is a walking tour of Reykjavik but get away from the main tourist areas. I walked out to the Nauthólsvík thermal beach and considered taking a dip in the freezing water with some hardy Icelanders. The open air hot tub looked more inviting but I chickened. I walked back through the Perlan woods and a beautiful church yard with Christmas lights on the grave stones. Then onto Perlan, which has fantastic views across the town, the fjords around and snowy mountains in the distance. There are some other tourist facilities in Perlan, such as a panoramic restaurant and ice cave, and there was some good volcanic activity photos in an exhibition before you enter the ice cave.
Another option the Norður og Niður music festival held at Harpa over 3 days. The festival curated by Sigur Ros and featuring some well known international artists as well as Icelandic musicians. It is certainly worth it if you want to stay there for a full day. I was looking more for a night gig and found one at Húrra I would have liked to see, but it clashed with my Northern Lights tour. Next time – I'm sure I'll be back.
Read about Iceland in Summer.