The Azores, situated far out in the Atlantic Ocean, are volcanic islands with beautiful landscapes to walk in and ocean activities such as whale and dolphin watching for alternative days.
Flights to the Azores generally come from Portugal or the US. There are a few that come directly from the UK if you are based there. There are also cruise ships which will stop at the islands.
We flew from Stanstead near London on a reasonably priced Ryanair flight, around a four hour flight – long enough to have something to eat and watch a movie on your laptop or ipad and you're coming in to land.
There are nine main islands in the archipelago, the most populated being São Miguel with its capital Ponta Delgada. There are flights to the other islands from Portugal but most flights will land here.
The city is clean and has many good hotels at reasonable prices. We stayed at the Royal Garden Hotel, which has its own pool, courtyard garden and underground parking. Breakfasts are generous – an open buffet with a wide selection where you can eat as much as you want.
The islanders speak Portuguese though enough speak English for us to have no trouble getting around.
There are a couple of options to get around São Miguel. Car hire will give you the most flexibility or some people will get dropped off by taxi then do a walk and arrange to get picked up by taxi at the end of the walk. The buses on the island are infrequent but it might be possible to get a bus to a starting point for a walk then get picked up by taxi at the end of the walk. Car hire can be arranged on the island. Your hotel may be able to help with this, or you may choose to arrange car hire before you arrive.
Travel to the other islands will generally be by air. Most of the islands are quite a distance apart, though some such as Faial and Pico are close enough together to get a boat across. When planning inter island trips, it's a good idea to leave a bit of padding in your itinerary in case there is bad weather and flights on that day are cancelled.
When deciding whether to visit one island or a few, it really depends on how much time you want to spend on each island. It also depends on the weather. Staying on São Miguel for a week will give you enough time to see most of the island even with a couple of bad weather days. Bad weather tends to affect the top of the mountains most and if the peaks are in cloud then that would be a good day to visit one of the lower lying attractions.
If you decide you only have time for one island, then São Miguel is a good choice. If you have time for 3-4 then Flores is beautiful, and Pico and Faial can be combined to see Pico's amazing volcano – some of the best views of this being from Faial across the strait of water between them.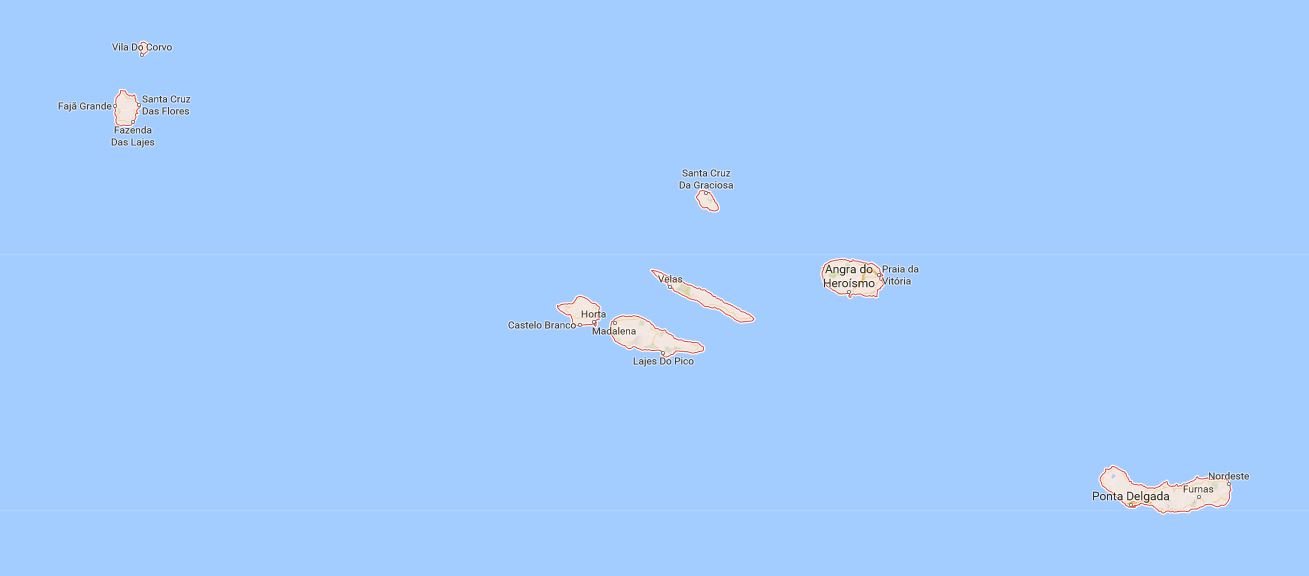 Highlights of São Miguel are the stunning Sete Cidades craters, the Furnas volcanic area and the Água de Pau Massif with its views of the 'Lake of Fire' from the top.
Sete Cidades can be approached from two directions, both are worth seeing and there are fantastic walks along the crater rim and down by the crater lakes. There are a few small restaurants within the crater area. We stopped at an 'all you can eat' restaurant which provided carafes of wine in with the all you can eat.
The Furnas area has fumeroles, hot springs and mud pools by the Furnas Lake. There is also the beautiful Terra Nostra park with its large thermal pool – bring your swimming costume. The gardens of the park are impressive and have many species of plant and trees.
The second city of Ribeira Grande is definitely worth a look. You can gaze north out over the ocean and know that the next land is Iceland and then the Artic. Within the main square there are cafes to get some lunch. Nearby the beautiful church of São Pedro, which is built on a hill, has great views across the town and out to the ocean.
While the Azores has beaches, they are only really warm enough for a days sunbathing in the summer months. The ocean was cold in May and would only be for the hardy at this time of year. They are beautiful though and good for walking. Many have fine black or grey volcanic sands and you can get drinks and meals at beach cafes that are dotted around.
Whale and dolphin watching tours can be booked down at the port. There are several companies that offer trips – generally half day. The boats that go out vary in size and character, some require you to wear life jackets as you are closer to the water. The boat skippers will do their best to find whales and dolphins – we saw two species of dolphin on our trip : the bottle nosed dolphin and the common dolphin. Both seemed happy for the boats to be there and enjoyed playing in the bow waves as they swam alongside us.