Despite its reputation in some quarters, Thailand is a very beautiful country, known for its friendly people, amazing food and diversity of landscape.
North to south the country is over 1000 miles, the northern part being wider, then with a long thin leg stretching down to meet Malasia.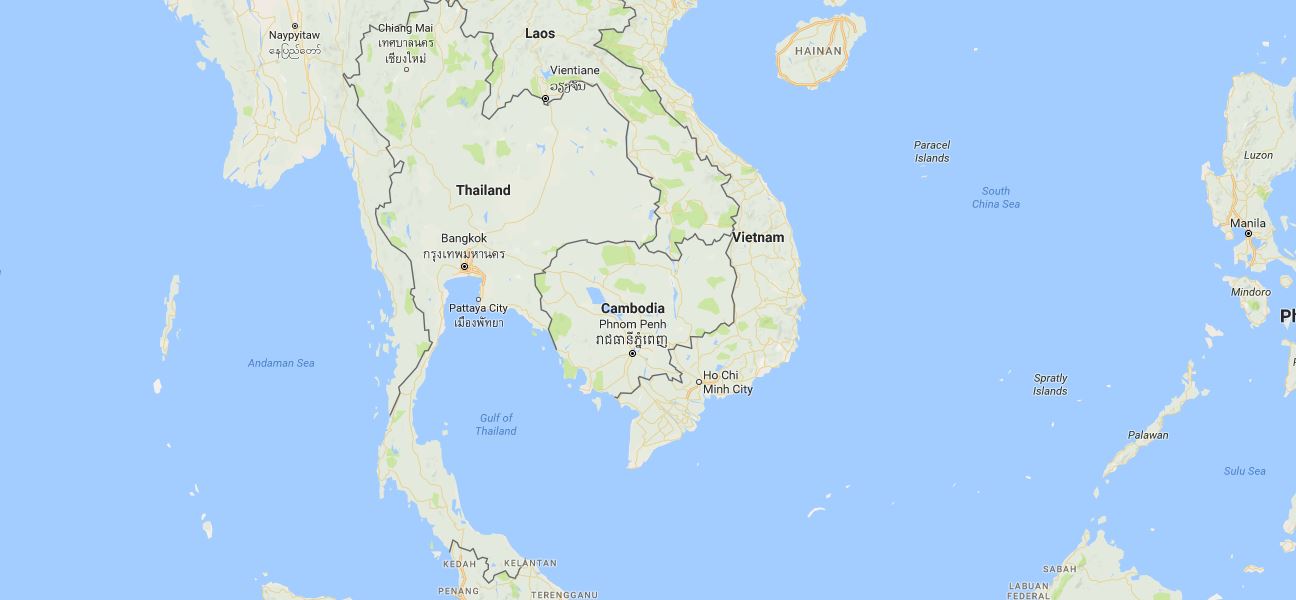 For our first visit, we decided we wanted to see Chiang Mai in the north, the Krabi region in the south with its many offshore islands, and quick stops in Bangkok at the start and end of the trip.
Chiang Mai
Chiang Mai has become very popular with digital nomads with its fast internet facilities and good co-working spaces. It has many temples to visit, great food options and is somewhat less chaotic than Bangkok so an easier introduction to Thailand. Based there, you can visit the northern part of Thailand, going into the mountains and making trips to the other northern cities.
It's an easy place to live, and relative to western countries cheap to live. 600 US dollars a month will cover a decent apartment and good food and drink if you are fairly careful.
Walking round the old town, there are some bad smells, but every now and then you get a beautiful one. You keep coming upon temples, both large and small ones. The largest ones have a entry fee, but not exorbitant, while many of the smaller ones are free. For us the temples were the best thing about Chiang Mai and the side trip there was worth it for them alone.
While some digital nomads live in the central area of the city within the moat, many are based in the Nimman area to the west of the old town. They chose this area due to its' modern facilities, fast internet speeds and co-working spaces. Also there are some big malls with great shopping and a cinema complex nearby.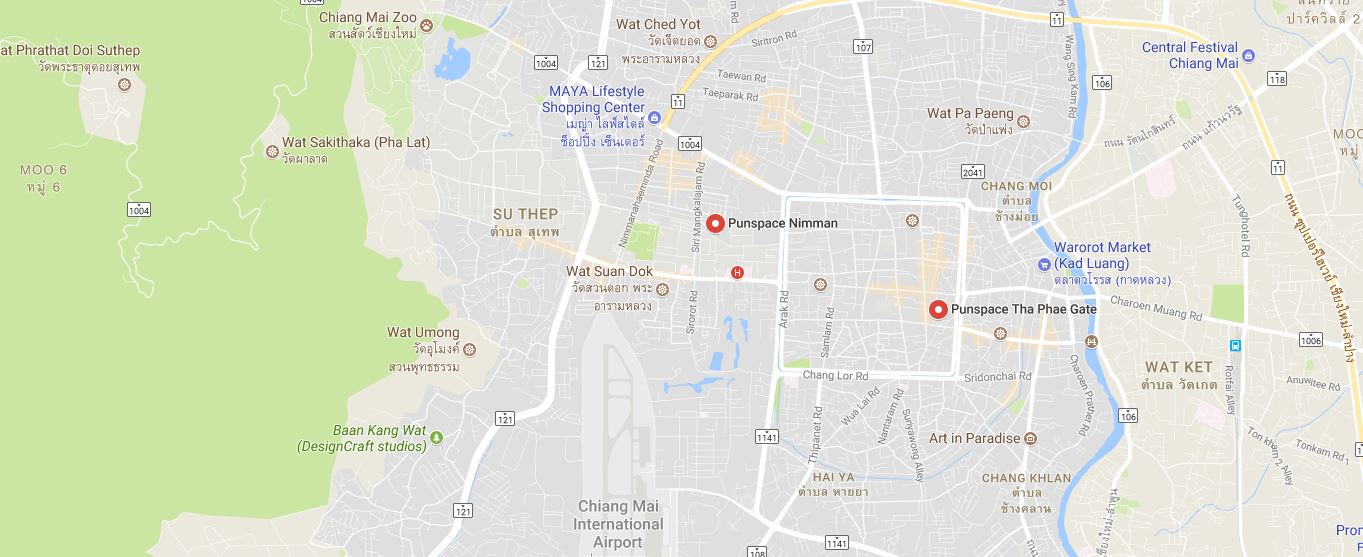 Krabi
Our second destination was Krabi in the south. This is on the Andaman coast and has a very long history of habitation dating back to the stone age. From Krabi, you can easily visit the famous Railay Beach and take boat trips to the over 80 islands offshore. Boats go from Krabi Town and also from Ao Nang beach resort nearby. Railay Beach has good rock climbing being at the end of a series of high limestone cliffs or karsts.
Ao Nang is quite touristy, it has an ok beach, and is a good place for booking boat trips to the islands and Railay. It also has a huge number of massage shops and you will be inundated by offers of massage.
You can walk to the Noppharat Thara beach, which is mainly used by Thai families and has some decent restaurants on the east end of this for a good meal. The beach is long going west to a creek a mile or so along it. From here you can wade to a small offshore island.
There is a path through the national park to the east of Ao Nang, where you may see monkeys. This has steep  steps up and down to the Centara Beach Resort. This is private beach for the hotel, but you are allowed on the beach and along to the pier.
Railay can only be reached by boat, and there are two long tail boat companies doing the 15-20 min trip from Ao Nang, one at the quieter north west end of the beach and the other in the center of the beach. You can buy dry bags from a number of shops for your electronic gear and passports etc, and this is probably a good idea as the crossing can be quite wet, especially if the boat skipper is going quickly into the waves.
Railay is very beautiful and it was here that we started to find what we were looking for from Thailand. The boat from Ao Nang lands on the west beach, and you can easily walk to the east side of the peninsula. There are four main beaches at Railay, the west beach is a long stretch of beautiful sand. The east beach is most pleasant when the tide is in, as when it is out the beach is mud flats surrounded by mangroves. It is very pleasant to get a good meal at one the beach side restaurants with a gentle breeze off the sea.
Ao Phra beach is accessed by a path from the east beach. There are some interesting caves along the path, a steep path branching off up to a lookout point and a hidden lagoon you climb up a rope to access. We also saw two types of monkey on the path. The beach is best visited early in the morning or evening, as it can get very crowded. Shoulder season is a good time to go also. There are some huge cliffs with climbing – you can join a party with a climbing guide. Another option is to hire a canoe to paddle around the cliffs.
When we were there a great bearded old fellow was free climbing high up the cliff, pulling yoga poses as he went. After he came down, he gave a impromptu yoga lesson on the beach.
If you want an experience of a more Thai town, stay in Krabi Town, there are far less tourists, several good restaurants such as the Chalita Cafe, waterfront walks, and markets. You will struggle to find an expensive hotel room, and we were lucky to be there for the Loy Krathong festival where the town threw a huge party along the creek side. You can get boats from here as an alternative to Ao Nang.
Krabi can be used as a stopping off point for the Phi Phi islands, though they have now become so popular with tourists that coral has been damaged and the region is in danger of becoming spoilt. Late night partying is also a problem for those who like to get some sleep, and would probably be best visited in shoulder season if you are not just there to party.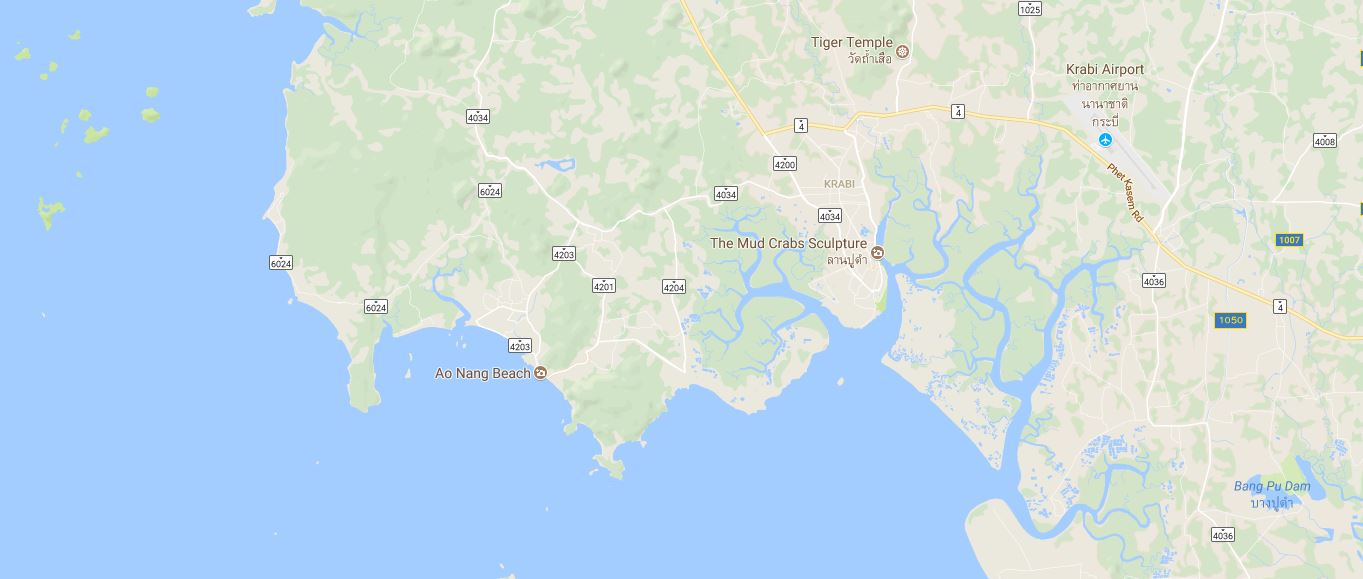 Nearby there is Tiger Cave Temple which is good for a day trip. The temple is up 1000 steps, and there are caves in the vicinity to visit set in the tropical rain forest.
Bangkok
Wanting just a small taste of Bangkok we decided to stay on the banks of the river near the Wat Pho temple and Grand Palace. From here you can explore the nearby temples and palaces, with Wat Arun across  the river a short ferry ride away.
Chinatown is close by and there are parks and flower markets between Chinatown and the Wat Pho area. We were looking for a less frenetic location in the city – though this might be a tall order, keeping many sights for a longer trip at a later date.
Image (cc). Will Ellis (Flickr)