Travelling for as long as you want, this packing list was for a three week trip but could be extended as long as needed. The only requirement is that clothes are washed while on the trip. This could either be done by where you are staying, a launderette or by yourself in a sink as I included a small tube of washing powder.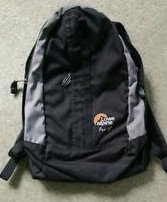 My rucksack is quite small and I have never had a problem taking it as carry-on yet. With shrinking allowances on budget airlines I check the airline requirements each time though.
It is a Lowe Alpine Pax 30. It was gifted to me many years ago and has been absolutely fantastic.
Credit Cards x 4
Ricoh GR travel camera + charger + case
Spare memory cards + case
GoPro + accessories + cable + case
Cash, foreign currency
Passport
Insurance + photo gear insurance
Flight Tickets
Train tickets
Accommodation details + printed maps
Guides on phone + maps
Watch
Charged phones x 3 with credit + charger
Headphones x 2 + container
Pen
Small rucksack suitable for carry on
Wallet
Keys
Reactalite specs
Spare specs
Swim goggles
Money belt
Adaptors for plugs
Printed address list
Umbrella
Driving Licence + International license
USB Charger unit – charged
Spork
Printed Itinery x 2
Mini tripod
Memory card to phone adaptor
Clothes

Jeans x 1 or cargo pants
1 pair shorts with zip pocket
Light fleece / jumper
5 x t shirts, one is long sleeved
Undies x 3 & socks x 3
Belt
Light waterproof
Comfy trainers / trekking shoes
Trunks / swim shorts with pocket
Track suit bottoms for hotel
Flip flops or reef shoes

Bathroom

Toilet roll
Drugs, creams, painkillers
Toothpaste and brush
Little big towel
Deodorant
Razor + lead
Wet wipes
Floss
Jungle roll on
Plasters
Wash bag. Plastic bags
Washing powder (20 washes)
I bought a 60 Gb data sim card for my phone in the airport for £25. This was enough for a month and I didn't need to use wifi or figure out VPN's.
Travelling so light makes trips much easier. I changed accommodation 6 times in three weeks and took 6 flights. If you arrive early morning in a location and check-in is in the afternoon it is no problem carrying this amount of stuff around during the day.
I took a bunch of books on my phone & podcasts for the flights and now have a phone with enough space for weeks of photos or video. The video quality is plenty good enough for YouTube, but I also have the GoPro and the travel camera can do video at a pinch.
One phone is my main smartphone with a foreign sim in. A second is a smartphone with home country sim in. The third phone is a feature phone with very long battery life extended by keeping it turned off, just for emergencies.
Clothing is designed for warm or hot climates with a waterproof for light showers. With so few clothes you have to be careful not to mess them up as it might be a few days before you get to a launderette. You do have a change of trousers though just in case.
One thing I'm thinking of adding to my stuff is a lightweight gym bag that folds up super small. I'd use this to put my cagoule in as I either end up wearing it, sometimes when it's warm, or putting it in a carrier bag which looks a bit scuzzy going through airports. It should fit in the cagoule pocket.