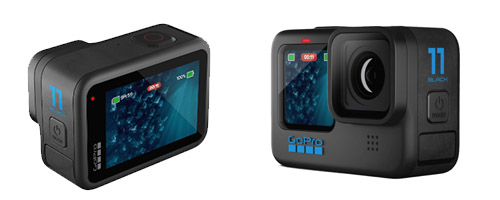 After playing with some of the Sessions it was time to upgrade to the flagship model, (until the next one came out that is).
Initially just using the camera to record videos using the on/off button in the same way as I did with the Session, there are lots of settings and features I've got to play with yet.
The main thing I was bothered about was that the quality of the video was better than the Sessions and that the stabilization was up to GoPro's claims and I would be able to record video without a gimbal.
Starting out with a video of Scarborough in North Yorkshire, I then recorded my first vlog – a walk in the Scottish Borders. The video quality is certainly better than the Sessions and with the mode set to Linear there was little of the obvious GoPro fish eye effect. I wasn't shooting anything that needed a wide field of view and I didn't want my videos to scream 'this was shot on a GoPro'.
The stabilization was impressive, no obvious shakes, and just some bobbing when walking, which I guess you have to expect. I need to learn to walk like a cat to fix this. I wish I'd had this camera for when I went to Thailand and shot so much unusable footage.
In the past I would only include a small amount of GoPro footage in a YouTube video, but with this camera I was happy to use it for a whole video.
Still got a lot to learn about the different modes and features, but right now I'm pretty happy. Having upgraded from 7 to 11, I am now trying out the more recent camera. Stabilisation does look better, but low light still looks poor.